Chefs Academy at Harbourside is a premier training facility for Chefs of the future. They offer courses in the following delivery modes:
Face to face training: In-person training delivered at the RTO's site. Also known as 'on-campus', 'in-class', 'traditional face-to-face', 'on-RTO-site' delivery.
Off Site training: The RTO can deliver in-person training using facilities at-or-near a client's workplace, or else in a mobile manner.
Flexible learning: Includes online courses and courses by correspondence.
Mixed mode training: A combination of various delivery modes.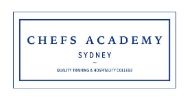 Chefs Academy Trading Hours
Chefs Academy - Stores | Harbourside