With its dazzling, contemporary interior design, Cyren Darling Harbour has been created as a visually stunning space, featuring a mix of open and intimate areas, bleached timbers and sophisticated ambient lighting. Breathtaking water and city skyline panoramas dominate from both the relaxed outdoor booths and the glamorous dining room.
Cyren's diverse menu aims to draw out the flavours of top quality local produce, crafted with elegant simplicity and plated to perfection. As well as fresh seafood, premium steaks and burgers, Cyren offers a traditional pizza menu, ideally paired with their selection of craft beers. Views of the harbour are the perfect complement to its stunning meals.
Book a table at Cyren Bar Grill Seafood in Harbourside today.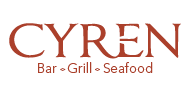 Cyren Trading Hours
Note: Hours are subject to change without notice during Covid-19 restrictions
Monday - Friday
11:30AM - LATE
SATURDAY - SUNDAY
8:00AM - 11:00PM
Cyren - Stores I Harbourside Shopping Centre