Being heavily influenced by youth culture, streetwear and fashion trends, our buyers are continuously scouring the globe in search of the next big thing in fashion. Bringing you the best brands, the biggest trends and the finest collection of vintage pieces worldwide!
Our blend of contemporary, ageless, vintage and modern styles provides a mix of seasonal must-haves - as well as the classics across menswear, womenswear, footwear and accessories.
Glue Store launched its first store at Highpoint Victoria in January 1999. Today Glue Store has 26 stores and growing in NSW, VIC, QLD and ACT, plus an online store which ships nationally. Glue Store has grown not only in size but in offering too - check out all the brands that call Glue Store home!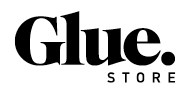 Glue Store Trading Hours
Note: Hours are subject to change without notice during Covid-19 restrictions
MONDAY - FRIDAY
11.00AM - 4.00PM
SATURDAY - SUNDAY
11.00AM - 6.00PM