Bars
Scotch & Co. Bar & Grill
Scotch & Co's food is simple, uncomplicated, honest, and rustic. It's straight forward. There's no pretence, but they show purity and pride in what they do. It's light. It's bright. It's fresh. It's classic. It's local, there's big flavours and it's seasonal and precise, but casual. It's fun, family approachable, yet world class. Quality produce, handled simply by a passionate chef. Their dishes are balanced, yet packed with flavour.
Scotch & Co has sculpted its menu with consideration for dietary requirements, catering for a broad range of people. The team is approachable and concise, reliable and yet, stable. It's a no risk certainty for those with little time, and no space for disappointment. It's a devoted kitchen with consistently beautiful food. Visit Scotch & Co Harbourside, Darling Harbour, for a fine dining experience.
Follow Scotch & Co on Facebook.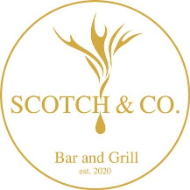 Scotch and Co Trading Hours
Note: Hours are subject to change without notice during Covid-19 restrictions
MONDAY - WEDNESDAY
CLOSED
THURSDAY
5:30PM - 9:30PM
FRIDAY
5:30PM - 10:30PM
SATURDAY
4:00PM - MIDNIGHT
SUNDAY
12:00PM - 3:00PM & 5:30PM - 9:00PM
Scotch and Co - Stores | Harbourside Shopping Centre